Attilio Meucci is the founder of ARPM.
Prior to ARPM, he was the chief risk officer at KKR, the chief risk officer at Kepos Capital, the head of research for Bloomberg's risk and portfolio analytics, and a researcher at Lehman's POINT.
Attilio is the author of numerous publications, and has taught at Columbia-IEOR, NYU-Courant, Bocconi University, and NU Singapore.
Attilio earned a BA summa cum laude in Physics from the University of Milan, an MA in Economics from Bocconi University, a PhD in Mathematics from the University of Milan and is a CFA charterholder. Attilio is fluent in six languages.
---
Across Research, Technology, and Operations, ARPM - Advanced Risk and Portfolio Management directs to its audience the energy and brain power of
Rank ARPM team by:

Intelligence
Beauty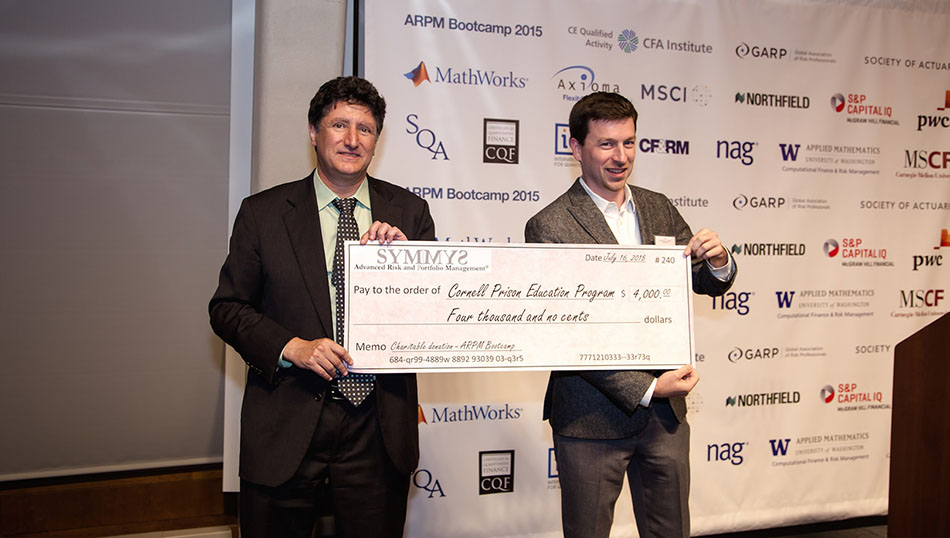 As the charitable arm of ARPM, One More Reason grants have leveraged the goodwill and resources of the quantitative finance community to empower individuals and organizations to approach challenges such as poverty, illiteracy, innumeracy, hunger, and the lack of proper medical care with effective and sustainable solutions. One More Reason's unique funding model means that we make the very most of your contribution.
Begun in 2005 when Attilio Meucci donated the first royalty check from his book, Risk and Asset Allocation, One More Reason has subsequently received all royalty checks from this book as well as fees from third parties executive trainings and seminars on quantitative finance. These resources, combined with contributions from the quantitative finance community have enabled One More Reason to write over $ 320,000 worth of grants that have helped improve the lives of many around the world.
A recent and growing area of focus for One More Reason is the education of the incarcerated. An often overlooked and looked down upon population, the United Nations estimates that there are over 9 million individuals in prisons throughout the world. Many of these individuals are caught in an endless cycle of incarceration, release, and incarceration that destroys lives, families, and communities at great expense to society. Education has been shown to be an effective way to break this cycle and reduce the cost to society as a whole. Beyond the dollars and cents, however, One More Reason supports the ideal that attending to the needs of the least among us can elevate us all. You can read more details on the history and motivations behind One More Reason on The Wall Street Journal: link to the article.