Advanced Quantitative Corporate Program
Quantitative finance is a rapidly evolving field, overlapping more and more with data science. It is incumbent upon practitioners to stay abreast of the latest developments of both theory and applications. The Advanced Quantitative Corporate Program is designed to build the human capital of participants and their firms in the areas of quantitative finance and data science.
The Program is not a "course" that presents a fixed set of content to a given cohort of students who move through the same materials at the same pace over a limited period of time. Rather,
The Program is a mechanism for building participants' knowledge in the ever expanding universe of advanced techniques, via the ARPM Lab, a comprehensive multi-channel online platform to learn modern quantitative finance
The Program consists of a never-ending series of long Jogs, during which participants learn, and short Sprints, during which participants explore
In the Program there are no fixed cohorts. The speed of the Program is individually customized to each participant's background and time availability
The Program covers in depth all topics in modern quantitative finance, and is organized in four all-encompassing, mutually exclusive, core learning subject areas:
In as little as 1-2 hours per week, the Program:
Provides in-depth knowledge across a wide range of techniques in advanced analytics/data science for finance and quantitative risk/portfolio management, applicable to asset management, banking and insurance
Establishes a common advanced language that allows employees to communicate across departments
Analogy: the Program is similar to a personal trainer, whereas the Lab is similar to a gym. The "gym" (Lab) contains all of the equipment , the "personal trainer" (Program) guides each participant individually to remain "fit" (at the frontier of advanced techniques) year after year. The Program is delivered remotely online, with both live and on-demand components.
The Program is delivered remotely online, with both live and on-demand components.
ARPM Lab
The ARPM Lab is our online platform that contains all of the study/practice materials for all the Topics in the Program across multiple interconnected learning channels:
Participants have access at all times to all the study/practice materials in the Lab, across all topics, as shown below: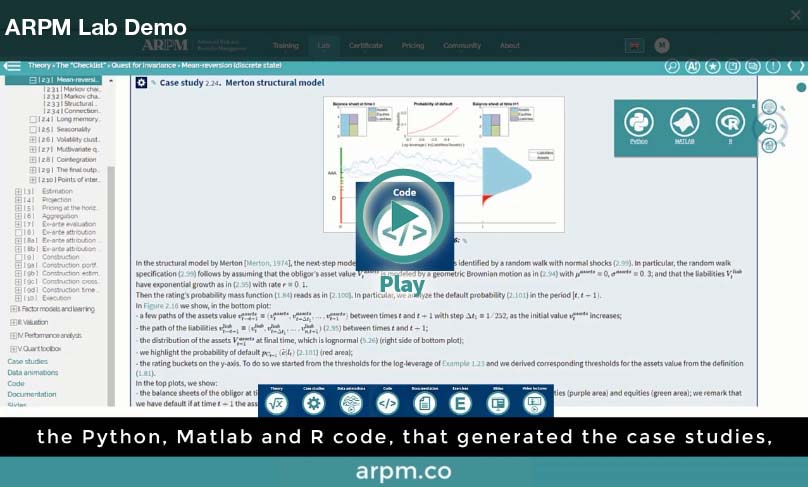 Analogy (continued): our Lab is similar to a gym, that contains all the equipment necessary for any time of workout.
Jogs/Sprints sequence
The Learning Management System (LMS) used throughout the Program is synchronized with and leads each participant through the contents of the Lab, organizing it into a set of cohesive Units, each consisting of Jog and Sprint phases, to ensure that each participant keeps absorbing all of the ever-updated content Units.
Jogs: weeks within each content Unit divided into "Preparation" and "Recovery" weeks, during which participants spend an average of 1.5 hours per week. Jogs are the most important part of the Program, in that knowledge sediments during Jogs.
In Jog "Preparation" weeks, participants preview material for the upcoming Sprints. In Jog "Recovery" weeks, they fill in all gaps accumulated during the past Sprints.

Sprints: one higher intensity week within each content Unit, during which participants explore new frontiers. Sprint weeks follow day-by-day schedules including a live "flipped classroom" session, as described in the video below. It is not didactically effective to attempt to complete the absorption of all the topics touched by a Sprint during the Sprint. Rather, by design, participants are guided to devote no more than 6 hours per week to the Program during Sprints, leaving a substantial amount of work to be thoroughly absorbed in the subsequent Jog "recovery."
In both the Jog and Sprint phases, participants have continual access to our 24 hour Q&A forums where we answer their questions on content or coding issues.
Analogy (continued): our learning system is similar to "interval training" : individual low-impact sessions under the supervision of a personal trainer ("Jogs") are alternated with high-impact aerobics classes with other walk-in participants ("Sprints").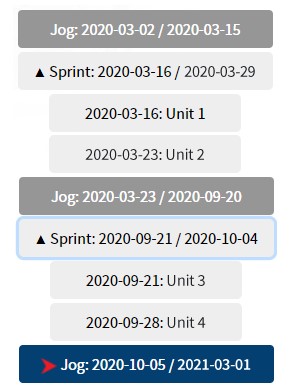 Individual customization
To ensure that all students remain engaged, participants follow a journey customized for each one of them individually, eliminating the issue of falling behind. ARPM guides and communicates with participants at all times to keep them on track. Furthermore, each participant's plan for the timing of Sprints and Jogs is re-customized and re-optimized on a weekly basis, based on engagement and performance.
As a result, the Program abolishes the concept of a fixed class cohort, building a group of "super quants" within the firm who can communicate on the platform to assist each other through the Program material. Individual participants can and will progress through the Program at different speeds, despite the average commitment being 1.5 hours per week, because a) different participants devote different amounts of time per week on any given week; b) the same topic is learned at a different speed by participants with different backgrounds.
Analogy (continued): our customized Program is similar to a personalized workout plan, whereby each participant becomes fit ("learns") at a pace that is initially tailored to his/her level of fitness ("background"), and subsequently reoptimized every week, based on performance.
Progress tracking & Certification
The ARPM system provides detailed progress tracking in the Learning Management System. Participants can see at a glance their level of completion for each topic within each Unit, and click directly to the material they need to study in order to complete the Unit. Participants also receive regular reminder emails that direct them to the appropriate content.
Company managers receive periodic reporting on the progress of their employees, so that they can see the return on their investment of training time, and to create accountability among participants.
Participants are issued certificates as they complete the materials associated with each group of Units in the Program:
Certificate in Data Science Foundations
Certificate in Advanced Data Science
Certificate in Data Science for Finance
Certificate in Financial Engineering for Investment
Certificate in Quantitative Risk Management
Certificate in Quantitative Portfolio Management
Because the Lab and therefore the Program is constantly expanding, the requirements for certification in each subject area will grow, and participants will be guided to the new material to maintain certification as part of their ongoing Jog phases.
Participants are also eligible to attain the ARPM designation, for which they must pass a series of three examinations (Level I, Level II, Practical Project)
Program benefits
Establishing a Corporate Program benefits firms in three ways:
Efficiency: individuals are able to complete quantitative projects more quickly, while firms that enroll in a critical mass of colleagues in the Program benefit from increased collective productivity due to common language and modus operandi across departments and regions.
Effectiveness: participants get better at identifying the proper approach and scoping projects correctly from the start.
Reliability: not only that the error rate is lowered, but also that participants' thought process becomes more structured and their code becomes more modular, so both can be re-used on subsequent projects.
Participants in the Corporate Program benefit in three ways:
Practical Skills: participants gain masters-level knowledge of all fields of modern quantitative finance and the ability to apply them to their day-to-day jobs, applicable across asset management, banking and insurance. There are no gaps and no overlaps.
Advancement: participants can apply their skills in multiple roles within the firm, and advance in their careers. For example "Q quants," whose focus has been the risk-neutral valuation of financial instruments, can work as "P quants" in risk management or portfolio construction. Similarly, IT employees can move into quantitative research roles.
Recognition: financial institutions worldwide trust ARPM as the highest bar of advancement for their in-house talent. Being selected for the Program demonstrates the firm's investment in the employee, while earning a Certificate of Completion in a subject area unequivocally demonstrates the employee's full mastery of the material.
Frequently asked questions
1. Who is the Program for?
The only requirement to benefit from the Program is a solid quantitative background from an undergraduate Program in the hard sciences. A major in physics, mathematics, or engineering is ideal.
No finance or coding background is necessary, as both skills are built up during the ARPM experience. Learn more...
2. What is the time commitment?
The Program is designed for busy working professionals. The time commitment during the Jogs is one to two hours per week. The time commitment during the Sprints is no more than six hours per week. The only synchronous activity is a one-hour live flipped classroom session once per week during the Sprints, and it is possible to satisfy the requirements for a Unit even if a participant misses the flipped classroom session in the Sprint week.
3. How long does it take to finish the Program?
There is no such thing as finishing the Program. Just as you are never "finished" working out in a gym (if you expect to remain in shape) you are never finished with the Program. Participants can continue indefinitely, accessing new material as it is created, repeating Sprint weeks that are especially relevant, and reviewing content in the Jog phase.
4. Can I see the full schedule for the Program?
There is no pre-determined schedule for the Program. Each participant's schedule is customized based on their level of interaction with the platform and comprehension of the material.
5. What happens if I miss a Sprint week?
We make it as easy as possible to complete the Unit requirements, even if you have little time during the corresponding Sprint week. Lab activity and homework can be completed during the Sprint week, in a later week in the same Sprint phase or in the subsequent Jog Recovery phase. The only synchronous component is the flipped classroom session. Forum activity is also measured during the Sprint week. It is possible to achieve adequate progress for a Unit even if you miss the flipped classroom session or the posting to the forums. If you miss both the flipped classroom and the forum activity during a Sprint week you can complete the Unit during the next Sprint week that it is offered.
6. Is there a final exam at the end of the Program?
We divide the content into four core areas: Data Science for Finance, Financial Engineering for Investment, Quantitative Risk Management and Quantitative Portfolio Management. As a participant accumulates sufficient progress in each of these areas we issue a Certificate of Completion. There is no exam to attain the certificates.
7. How does the Program differ from the Quant Marathon?
Like the Quant Marathon, the Corporate Program leads the participant through the content of the Lab in a logical sequence. However, the Quant Marathon is a concentrated series of courses, delivered over a fixed period of time to a fixed cohort of students. Students in the Quant Marathon must complete each week's topics during that week to keep up, and so devote roughly 25+ hours per week to complete it. The Corporate Program requires only a few hours per week because the material is spread out over a longer horizon, and the material is learned mostly in the Jog phase. Also, there is no fixed end date, so participants have access to updated and expanded material as it is created.
8. How does the Program compare with a Master's in Financial Engineering (MFE)?
Time: the Program requires less time to acquire the relevant knowledge, because it is a single cohesive Program rather than a series of disconnected courses taught by different professors; as such, it covers all and only what you need to learn, with no overlaps.
Cost: the Program is less expensive.
Flexibility: the Program is more flexible because it abolishes fixed semesters of 12+ consecutive weeks: each person controls their own cadence of Jogs and Sprints.
Cohesion: Because of the reduced cost and time requirements, and the increased flexibility, firms can easily enroll employees of diverse seniority and background, developing a common language and fostering connections across groups and geographies.
Lab: the Program is fueled by the Lab, a unified, all encompassing, interactive e-learning platform with all practice materials delivered through interconnected channels.
Mathematics: the Program brings people to a higher level of mathematical proficiency.
Corporate sponsored students
Firms who do not wish to establish a formal Corporate Program for a group of employees can sponsor individuals studying in our Quant Bootcamp or Quant Marathon courses and/or demonstrating their proficiency by passing our certificate exams and earning the ARPM designation.
ARPM offers discounts and flexible billing arrangements for professionals who utilize their company's training budget towards any of our online or in-person offerings.
We can help you figure out whether your firm will pay for you to learn with ARPM.
If you decide to enroll in a class that someone else from your firm has already registered for, we can extend a group discount on both of your registrations.
Please contact us if you would like to take advantage of these for you or your colleagues.
Companies whose employees have trained with ARPM include the following:
Testimonials
Our thousands of Alumni include senior executives from world-renowned banks such as Goldman Sachs and Morgan Stanley, funds such as BlackRock, Two Sigma and AQR, and a wide range of other professionals and academics with different backgrounds.
"The ARPM Bootcamp covers a lot of important topics used in the field on quant finance. Appreciated the fact that we built everything from first principles. It's a great program that I would recommend to my colleagues."
Quantitative Analyst at Cubist Systematic Strategies
"This is an impressive course designed not only for buy-side practitioners but also for hardcore theorists in academia. How Attilio integrated the great depth of mathematical rigor, valuable programming experiences, visual and verbal representation of intriguing economic theories and latest industry fads into one set of study materials is truly amazing, and I have to say that I've never seen anything like this even at top graduate schools."
Executive Director at Morgan Stanley
"I really can't say enough how glad I am to have participated in the ARPM Bootcamp. Even when the material was familiar, there were layers of insight intoned for those looking for them. I would highly recommend the course to any practitioner or academic at any point on the spectrum."
Head of Quantitative Analysis and Research at Whitebox Advisors
"I was very impressed with the course, particularly from a practitioner's perspective...All of the daily sessions were great. I had never seen Atillio in person before and I enjoyed his sense of humor and teaching demeanor. I felt the visual tools used to reinforce concepts were particularly helpful. I will definitely recommend the course to some of my other research team members."
Investment Analyst at The Vanguard Group
"I greatly enjoyed the ARPM Bootcamp. I liked the abstract perspective and the approach of going from general to specific. Great opportunity to network, too! Well done Attilio and the staff!"
Director, Risk Analytics at Barclays
"Main strengths I believe are the contents, course structure, and style. This is one program that encapsulates all aspect of portfolio and risk management in one place. A very good mix of using theory with reasoning behind it. I thoroughly enjoyed the course and am looking forward to using the concepts more actively."
Vice President at Goldman Sachs & Co
"Everything was very clear and comprehensive. The lectures were quite lucid and the readings (especially the lab!) are quite amenable to self-study, especially to someone transitioning into quantitative finance. I felt I learned a lot about risk and portfolio management, despite not having prior professional experience in this area."
Ph.D. student in theoretical physics at Leiden University
"I've thoroughly enjoyed the course, and it exceeded my prior expectations. I think Attilio is excellent at delivering the material, and I'm quite impressed by his ability to teach such long hours. The administration, venue and participants were fantastic."
Assistant Professor at The American University in Cairo
"The ARPM really helped me to further improve my knowledge of the various fields covered. Although you think you already know a lot on the respective topic area, the ARPM Bootcamp enables you to deepen your knowledge and further connecting your knowledge to other topic areas. Organization was good, responds to inquiries were very fast and precise."
Doctoral Student, European Business School, Wiesbaden, Germany
"Attilio, you and your team was just fantastic. 60% of the math was over my head but the methods and exercises allow me to get there with the strategy to implement it properly. This is priceless! Next year I will send my staff and the following I'll be back. Thanks again for a course I can grow to and build on for years to come. A job well done!"
Vice President at Wescom Credit Union
"The ARPM Bootcamp was excellent! The instructor's breadth and depth of knowledge was pretty amazing. I loved getting a bird's eye view of all the topics and I loved that he kept going back to the main checklist and kept giving us a sense of the overall picture. I intend to take the exam and will hopefully gain a deeper understanding studying for it..."
Consultant at The World Bank
"Over all, the ARPM Bootcamp is the best academic experience I've ever had (not one of, just the best). It has broadened my view so much. There's still a lot from the ARPM Bootcamp that I need to digest. These 6 days will change my life forever."
"This was the best course I've ever had. It changed my way of thinking about portfolio management and it made me realize I want to focus my career on that from now on. Attilio is an excellent instructor and developed an extremely sound framework."
Investment Counselor at Citi Private Bank
"Review Sessions by Angela Loregian were amazing. I wish the videos were recorded. I would have loved to buy them. Attilios grasp and depth of Quant modelling was very inspiring. Robert Almgren's guest lecture was very good too!"
Senior Analyst, Investment Risk Reporting at British Columbia Investment Management Corporation
"Angela is also very thorough during the exercise/review session, which ensures that anything you did not get during the main presentation is clarified. "